Professional Fingerprinting Service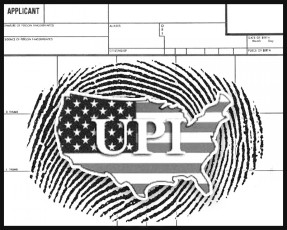 United Private Investigations offers Professional Fingerprinting. We are the number one fingerprinting service throughout the Tri State Area. We service Bullhead City, Kingman, Fort Mohave, Laughlin, and all the surrounding areas. <!xml:namespace prefix = "o" ns = "urn:schemas-microsoft-com:office:office" /><!xml:namespace prefix = "o" /><!xml:namespace prefix = "o" /><!xml:namespace prefix = "o" /><!xml:namespace prefix = "o" /><!xml:namespace prefix = "o" /><!xml:namespace prefix = "o" />
For those people, agencies, companies or organizations who find it difficult to adjust their time and schedules, mobile service fingerprinting is the answer to their problem. This type of service has been very popular the last couple of years, especially to those groups of people that need to be fingerprinted at the same time and location.
These services can be done in your home, office, business or any establishment you prefer. They can also be performed before, during or after Orientations, seminars, classes, graduations or conference, etc...
We value our clients and are committed to providing them with excellent service, including one hundred one percent (101%) satisfaction. We provide two cards with every fingerprinting to ensure there is no rejection of the cards.
Servising:
Adoptions - ADOT Employment - Adult Care Licenses - Alarm Agents - Armed/Guard Permits - Applicant Clearances - Bank Personnel - Bail Bond Agents - Border Patrol - Broker's License -Caregivers - Casino Personnel - Child Day Care Licenses - Concealed Weapons, CCW - Dispensary/Caregiver/Agent - Drivers - F.B.I. Reviews - Foster Parents - Game and Fish - Home Health Personnel - Hospital Personnel - Identity Verified Prints - Immigration - Lawyer's BAR License - Liquor License - Level One Clearance - Loan Mortgage Officers - Massage Therapist - Medical License - Nursing License - Passport Applications - Pest Control License - Private Investigators - Racing License - Real Estate Agents - Record Reviews - School Personnel - Security Personnel - and all kinds of fingerprinting needs...