Executive and Personal (Bodyguard) Protection

Lyle Sharman has been involved in Executive and Personal Protection for over 30 years. He was one of the bodyguards for William Bennett who was the CEO for Circus Circus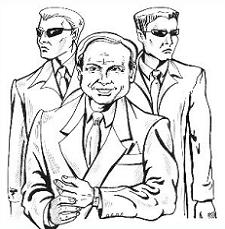 Casino Gaming Enterprises. Lyle has provided personal protection for many high profile figures, corporate clients and private individuals.
Lyle is internationally certified in numerous defensive tactics. He is a use of force instructor and understand the laws and procedures necessary for legal protection. He is certified in verbal judo and knows how to deescalate a situation so that the chance of force is minimized.
Lyle has been an NRA certified firearms instructor for over 25 years. He is currently a licensed concealed firearms instructor in Arizona, licensed with the Arizona Department of Public Safety.
We recognize that each of our clients has specific executive or personal protection (bodyguard) needs. We know our clients are concerned with more than just personal safety, they also want to be reassured that their unique situation will be handled both discretely and professionally. We are more than just "bodyguards". We are highly trained to keep you, our client, safe, secure, and at ease in any situation.